HERO – #lightweightweapon
The HERO redefines the class of ultralight high-performance gliders. High top speed combined with precise handling characteristics. With size small weighing in at less than 3 kg, it's also the lightest glider in class.
HERO – Ultralight High Performance!
Powerful, compact and light – starting at just 2.9 kg.
Beginner

0%

0%

Occasional

25%

25%

Expert

100%

100%

School

0%

0%

Competitions (Red Bull X-Alps, Hike & Fly etc.)

100%

100%

Hike&Fly

100%

100%

XC

100%

100%
Designed for the versatility and limitless combinations of Hike & Fly and XC, the HERO is the attractive choice for competition pilots, vol-biv enthusiasts, and backcountry adventurers.
Especially in competitions or XC-Hike & Fly combinations, the HERO exploits all its strengths.
At just 2.9kg and an incredibly small pack size, it's perfect for any ambitious Hike & Fly XC pilots and/or vol-biv enthusiasts.
But even in normal XC flights, the HERO can show its performance and take you much further!
To prove that performance is not based wholly on the premise that the greater number of cells is always superior, we've designed this glider with only 59 cells at an AR of 6.95, achieving top-level performance.
We've introduced a brand-new winglet-shaped tip design that improves roll-stability when flying accelerated. In combination with our proven Vortex Holes, it has a positive effect on wing-tip stability in turbulent conditions.
By inventing a new airfoil profile that creates greater lift, we could retain a compact surface area, delivering perfect climbing and direct and precise handling characteristics and optimum safety.

In order to achieve high top-speed, we intentionally positioned the glider within the EN-D range. The HERO flight performance feels perfectly balanced, very agile and precise in handling, which is confidence inspiring in both smooth and turbulent conditions.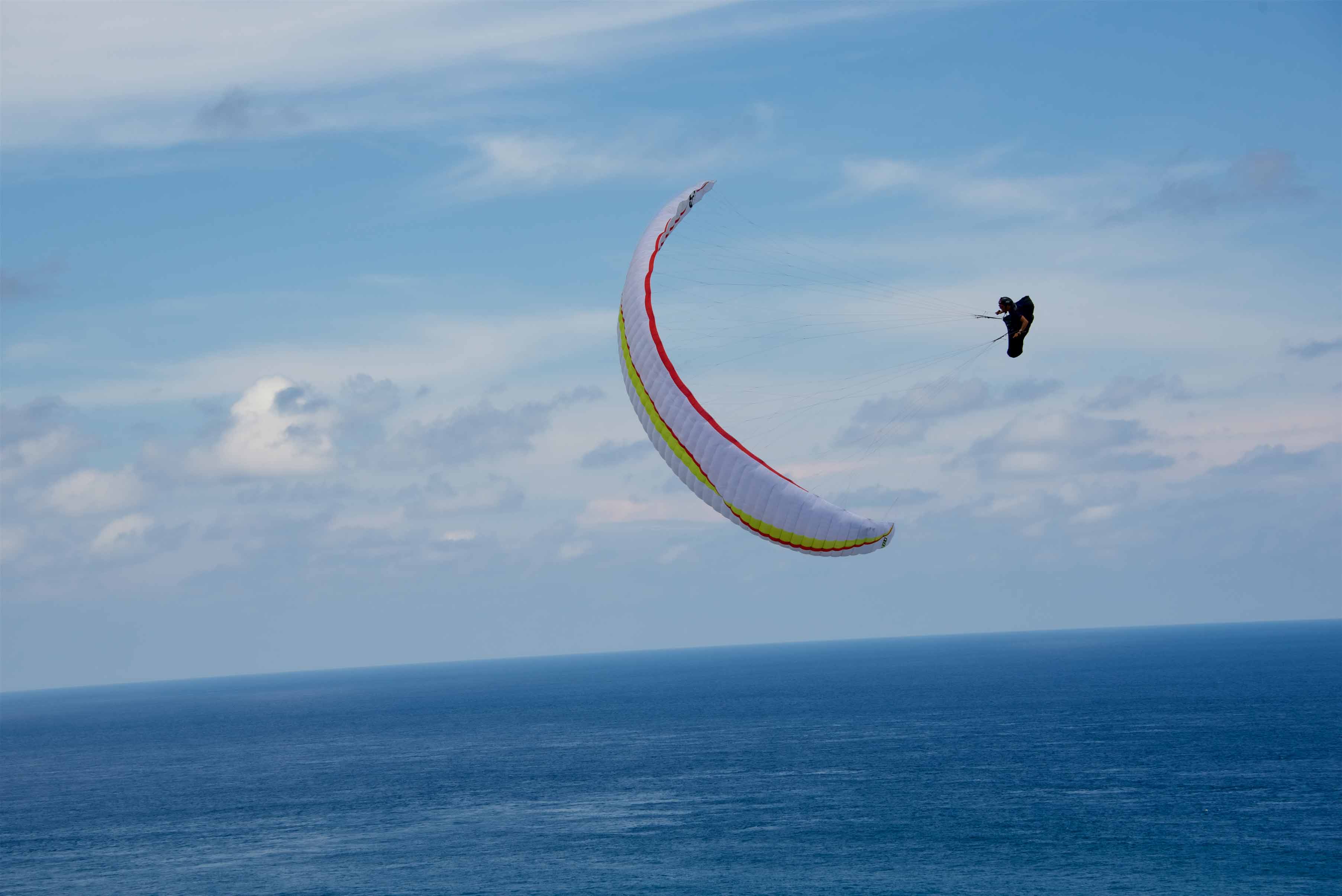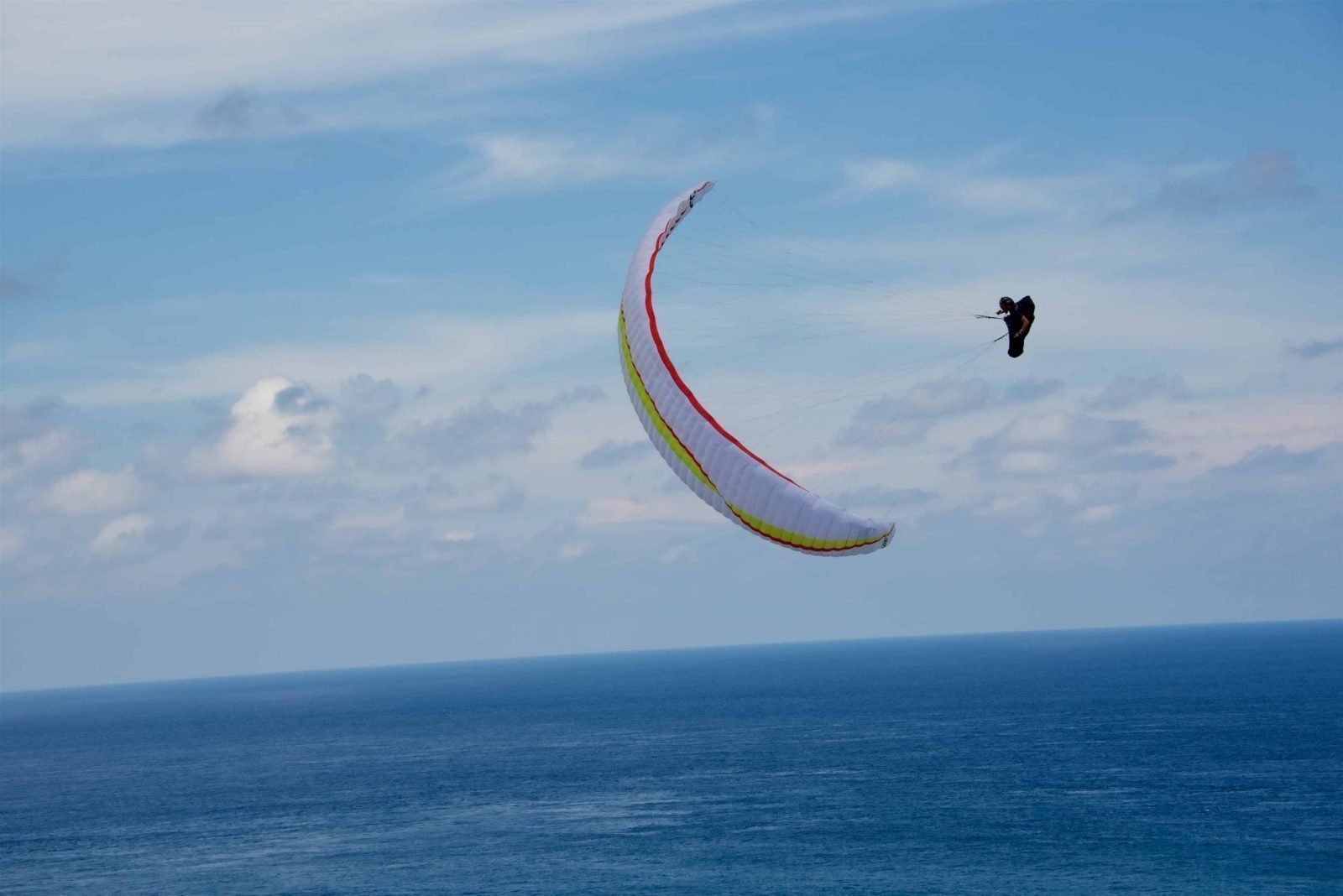 To further reduce drag and improve performance, a completely new line-setup was developed for the HERO, which presents as an unconventional 3-liner concept. The positions of the line-attachment points work together with new internal construction in order to avoid the need for straps or polyamide wires in the body of the glider, again permitting a greater reduction in weight. The HERO line configuration showcases 2 main-lines on each side, (A-B-C riser-set) achieving a very low overall line consumption. Controlling the wing efficiently in-flight with B-risers is also possible via new B/C Riser Control.
Other advantages of lightweight construction include improvements in performance and safety.
The HERO comes with polyamide wires only situated at the nose area, providing you with the best opportunity for small pack-downs. In addition, the wing comes with our compact and lightweight 50/50 AirPack.

Double mini A-Line attachments, in combination with Shark-Nose design technology provide the HERO with increased stability, especially under acceleration. The HERO brings an impressive speed range to the table, and is optimised for top-end speed and glide.
Weight-optimised construction
Vortex Holes
3D-Cut
Mini-Ribs
Razor-Edge
Unsheathed lines
Lightweight risers
50/50 AirPack
"The HERO is my first choice in all Hike & Fly competitions. The compact pack size and light weight paired with the performance of the HERO make it my best companion in any competition or XC flight."
– Patrick Sieber (X-Pyr Participant 2018)
"Whether Expedition, XC Flight or Hike&Fly Competition; the HERO – #lightweightweapon is for me the perfect 'Light High Performace Wing'. The packing size and the simple starting behavior always conjure a grin on my face. "
– Gerald Gold (Red Bull Xalps participant)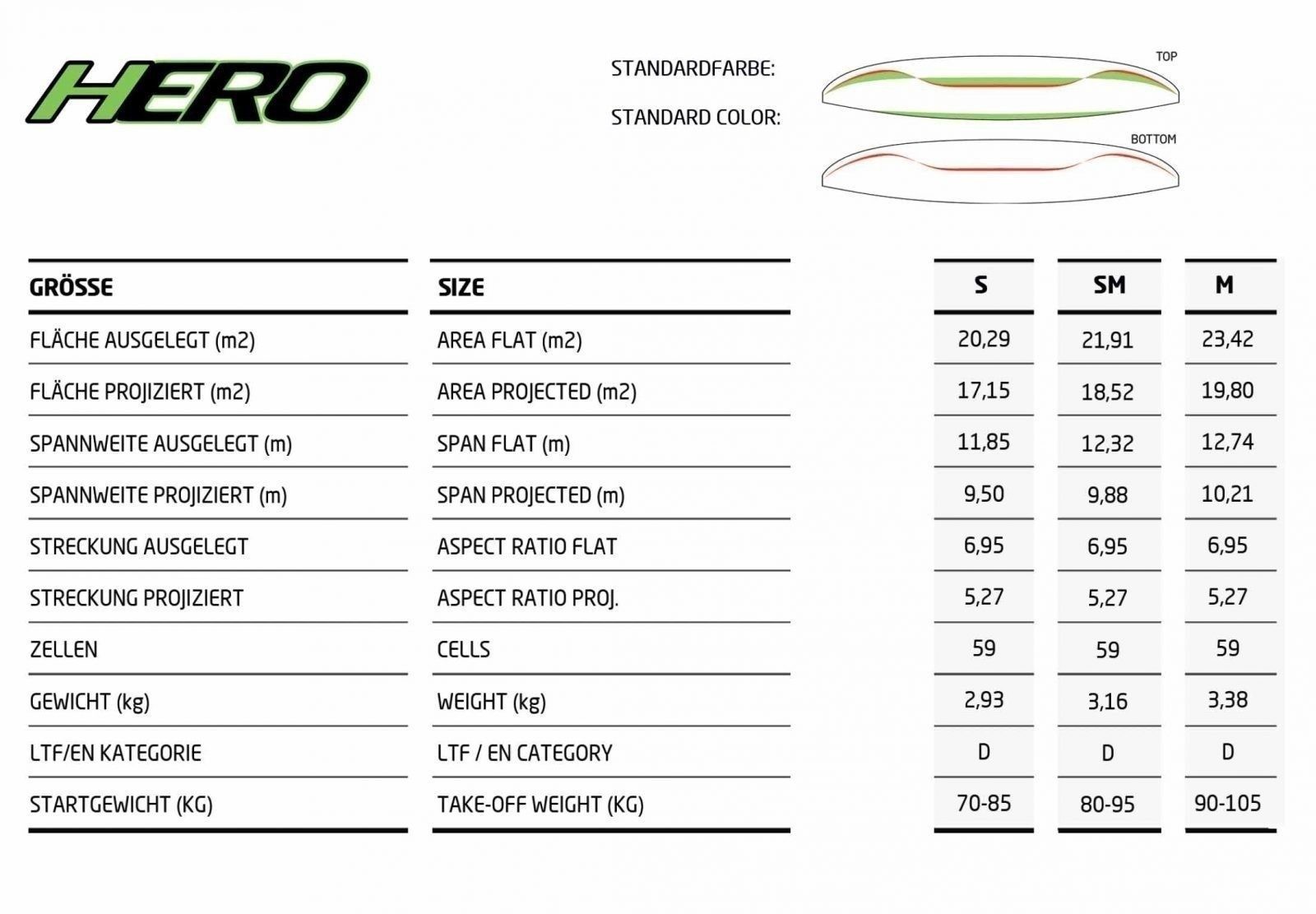 Special Colours desired?
Of Course, you can also customize this glider with the help of our configurator and order it in special colors!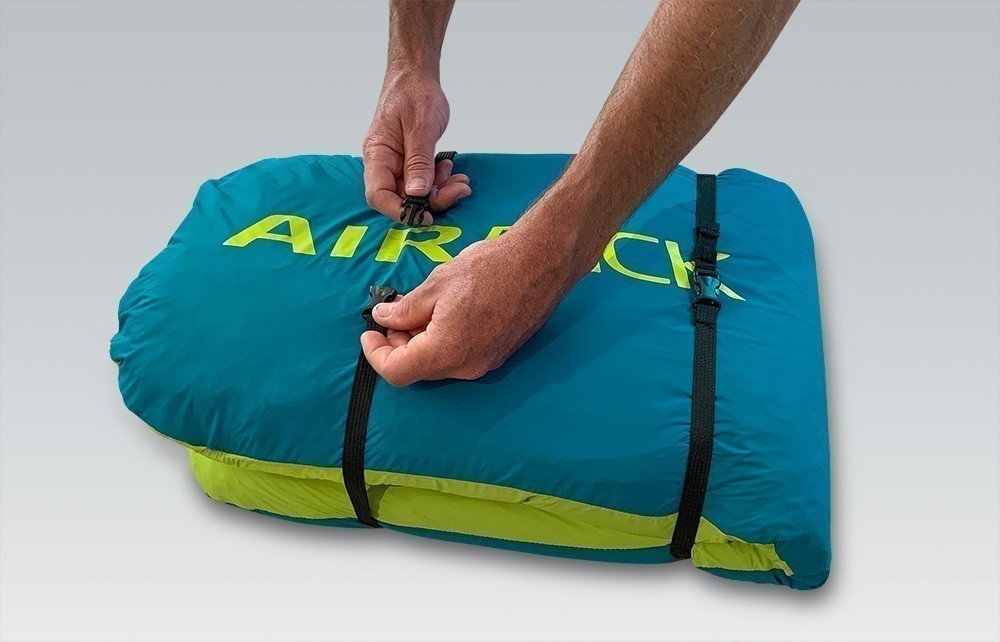 your HERO – #lightweightweapon Package
Delivery
Goodies

Repair Materials and AirDesign Stickers