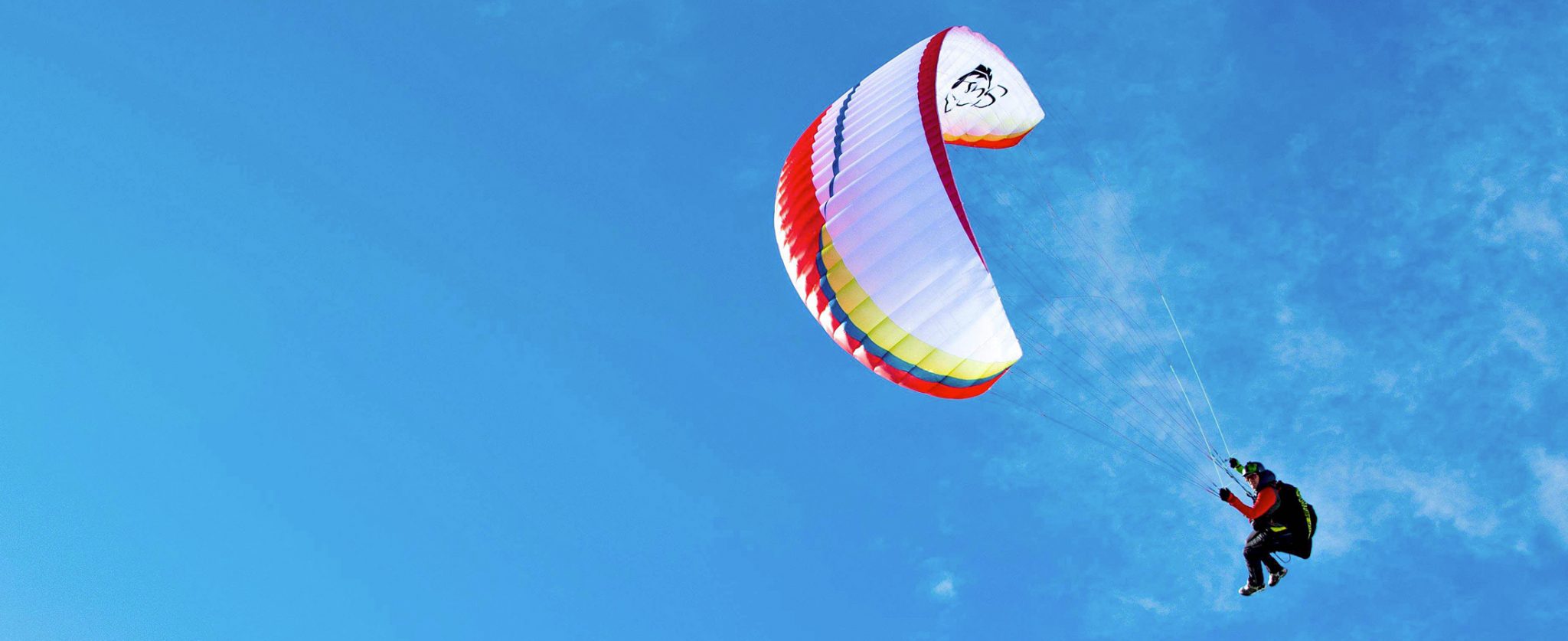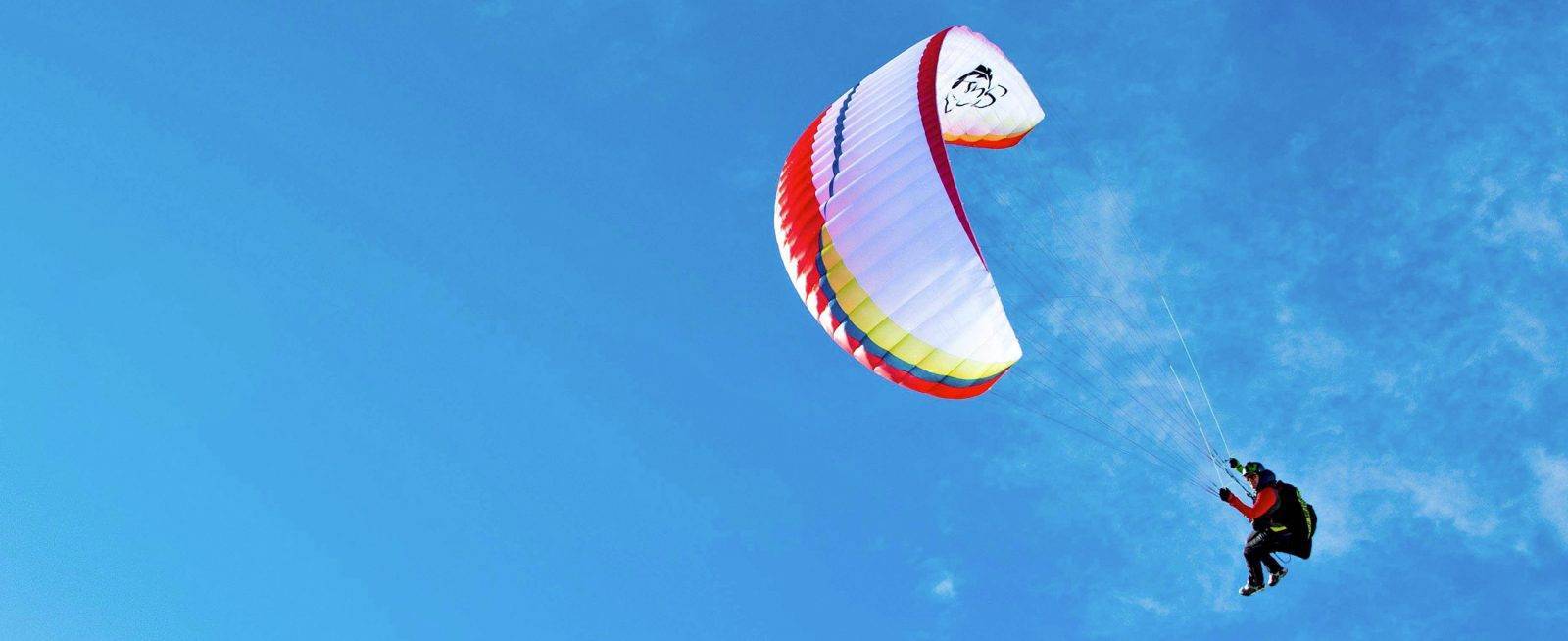 SuSi 3 – #lightgearjunkie
Setting the standard for years, the new SuSi 3 evolves again. In the third generation, new paths are being taken and the horizon is broadened
SuSi 3 – Fast, Simple & Safe!
That's the smallest EN/LTF-B Glider in the world!
Originally, the goal was to have a simple design with the best performance possible. This is how the concept name was derived – Super Simple → SuSi! The new SuSi 3 is a hike&fly all-round glider, suitable for various pilots and applications – from basic hike&fly to extreme mountaineering and strong wind soaring. The new SuSi 3 covers all of these applications with ease.
Beginner

75%

75%

Occasional

95%

95%

Expert

100%

100%

School

25%

25%

Competitions (Dolomitenmann etc.)

100%

100%

Hike&Fly

100%

100%

XC

25%

25%
The SuSi 3 is perfect for the low-level B pilot looking for a forgiving lightweight wing, or for those choosing to operate on the upper side of the weight range, providing the lightest and fastest equipment for extreme mountaineering or high-wind soaring conditions. The extensive weight range offered within the SuSi3 lineup provides you with all the options to choose the right size for whatever your adventure demands. We've developed a chart to assist you in choosing the right glider for your application.
If you are looking for basic wing behaviour from a low EN-B glider, then choose according to the fields with a green background. Those seeking fun in the blue background with higher loadings will notice the increased trim-speed, requiring greater pilot experience. The glider's behaviour still remains predictable, and provides greater flying options, such as strong-wind soaring opportunities.
The concept of Super-Simple relates not only to the construction, but even more to the flying characteristics. The SuSi 3 is one of the most forgiving and easiest wings on the market – now proven with the certification (EN-B in many sizes and loadings). Simplest launching and a rock-solid canopy which defies the roughest turbulence are just a couple of the key characteristics of the SuSi 3.
Turning response is reminiscent to playing a high-speed video game – agile and responsive. Manoeuvres – such as Big-Ears, B-Stall or Spirals – are easy to achieve and are uncomplicated.
Speed system acceleration is excellent and the glider remains ultra-stable throughout the complete bar range, extending your adventure playground. So you have a great scope for manoeuvres in your adventures.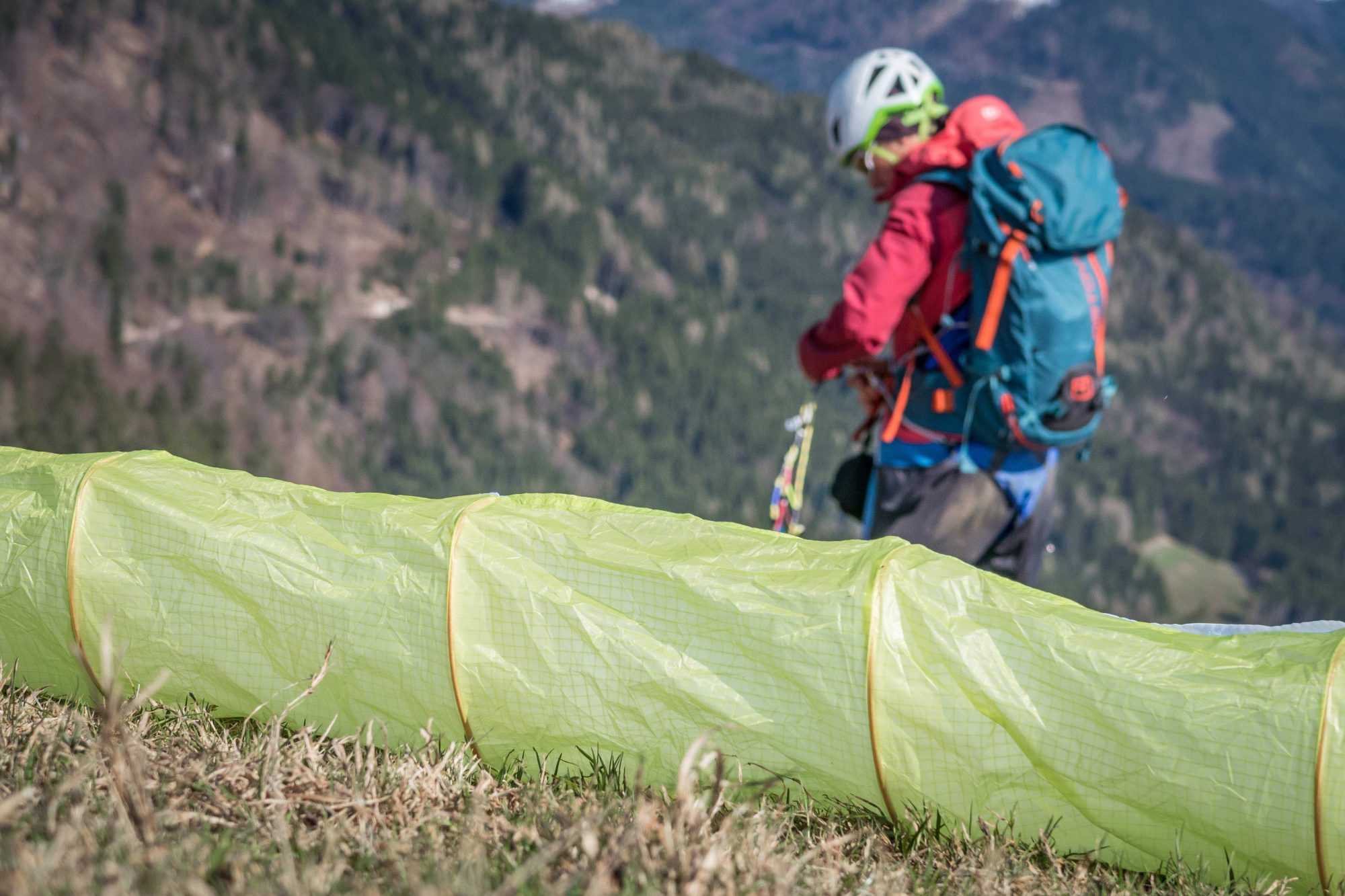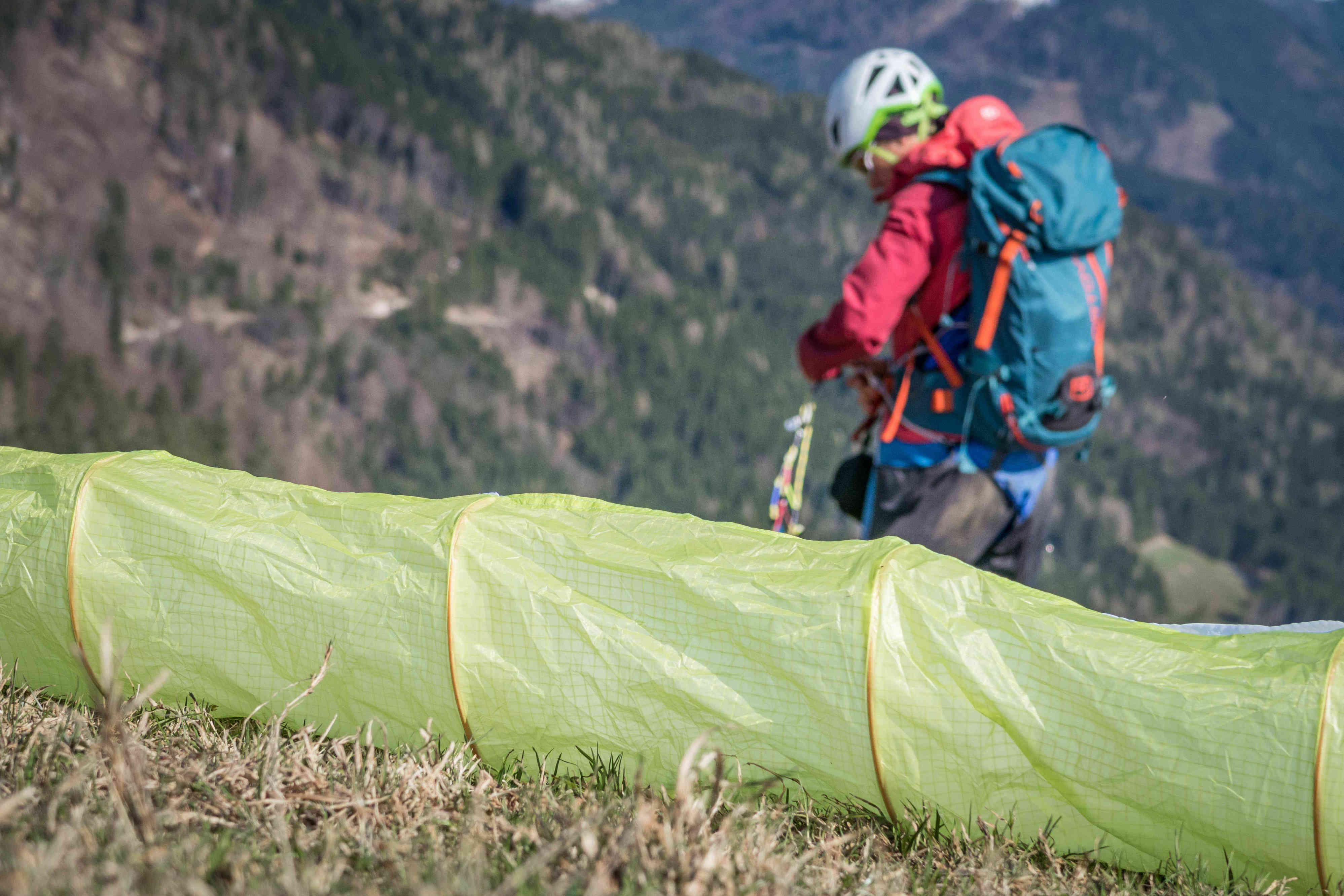 Weight:
An overall optimized construction, in combination with the lightest materials made it possible to realise our smallest packing volume glider ever and reduces the glider weight dramatically – 1.85kg for the size 13 is a clear statement to the market.
Performance and Speed: A new airfoil and further improvements in the design increase performance by half a glide angle. That's why the SuSi 3 matches (and in some cases smashes) many EN-B wings. Depending on the loading/glider size chosen, the SuSi 3 can accelerate by more than +20km/h when utilising speed-bar, resulting in a maximum top-speed of way over 60 km/h (size 14 with top parameter loading!).
Risers:As you'd expect, the new Dyneema braid style riser-set is also designed for ultra-low weight.
New Sizing: Long time requested, and now we've delivered. The size 13 will be the smallest and fastest size offering within the SuSi 3 range – aimed squarely at #speedjunkies. Perched at the top of the range, the 23 is the largest, focusing on the needs of the current intermediate / developing pilot.
"The SuSi 3 is really the most wicked wing I've ever flown. I've never had as much fun flying as I do now. Whether a cosy Hike & Fly or demanding competition à la Dolomitenmann; I'm perfectly equipped with the SuSi."
-Michi Zelzer (RedBull Dolomitenmann Participant)
"For flying in the strong coastal wind, the SuSi 3 was my first choice. I am absolutely thrilled about the speed and the so unfathomably simple but totally fun, agile handling. I've really never had such an amazing wing! "
– Geti G. (Acro-Artist)
Technical Specifications & Colours
Size
13
16
18
21
23
Area | Flat (m2)
13,64
15,95
18,06
20,57
22,99
Area | Projected (m2)
11,74
13,72
15,55
17,70
19,79
Span | Flat (m)
8,13
8,79
9,36
9,99
10,56
Span | Projected (m)
6,56
7,09
7,55
8,06
8,53
Aspect ratio | Flat
4,85
4,85
4,85
4,85
4,85
Aspect ration | Projected
3,67
3,67
3,67
3,67
3,67
V-TRIM/V-MAX (km/h)
41/66
37/62
36/57
35/56
35/56
Cells
34
34
34
34
34
Weight (kg)
1,86
2,05
2,29
2,56
2,81
LTF/EN Category
EN D
EN B-C
EN B-C
EN B-C
EN B
Standard takeoff weight (kg)
Extented takeoff weight (kg)
60-87

50-75 (B)
75-89 (C)
50-70 (B)
70-97 (C)
60-83 (B)
83-108 (C)
72-122

Segeltuch/Sail/Voile:
• Obersegel/Top Sail/Extrados: Porcher Skytex 27 classic II
• Untersegel/Bottom Sail/Intrados: Porcher Skytex 27 classic II
• Rippen/Ribs/Cloisons: Porcher Skytex 27 hard
Leinen/Lines/Suspentes:
• Gallerieleinen/Top lines/Suspentes hautes: Edelrid 8000/U-070, 090
• Gabelleinen/Middle lines/Suspentes moyennes: Edelrid 8000/U-130, 190
• Stammleinen/Main lines/Suspentes basses: Edelrid 8000/U-190, 230, 280
Tragegurt/Riser/Elévateurs: EDELRID Taurus – ~3,7mm Dyneema Rope
Schraubschäkel/Maillons: 4,3mm JOO-TECH/Korea
Superlight
Vortex Holes
Flex – Rods
3D-Cut
Mini-Ribs
Razor Edge
Maillon clips
Unsheathed Lines
Superlight Dyneema Risers
BS pulley Connector
B/C control

Take of weight (certification)
50 kg
55 kg
60 kg (D)
65 kg (D)
75 kg (D)
82 kg (D)
86 kg (D)
SuSi 13
39


km/h

40


km/h

41


km/h

42


km/h

43


km/h

44


km/h

Take of weight (certification)
50 kg (B)
55 kg (B)
60 kg (B)
65 kg (B)
75 kg (B)
82 kg (C)
89 kg (C)
SuSi 16
36


km/h

37


km/h

38


km/h

39


km/h

41


km/h

42


km/h

43


km/h

Take of weight (certification)
50 kg (B)
57 kg (B)
65 kg (B)
70 kg (B)
78 kg (C)
85 kg (C)
95 kg (C)
SuSi 18
35


km/h

36


km/h

37


km/h

38


km/h

39


km/h

40


km/h

41


km/h

Take of weight (certification)
60 kg (B)
69 kg (B)
78 kg (B)
85 kg (C)
95 kg (C)
100 kg (C)
108 kg (C)
SuSi 21
35


km/h

36


km/h

37


km/h

38


km/h

39


km/h

40


km/h

41


km/h

Take of weight (certification)
72 kg (B)
78 kg (B)
85 kg (B)
97 kg (B)
103 kg (B)
110 kg (B)
122 kg (B)
SuSi 23
35


km/h

36


km/h

37


km/h

38


km/h

39


km/h

40


km/h

41


km/h
Trim speed and characteristics of a conventional wing – suitable for all pilots.
Higher trim speed, more agile and direct handling – mini-wing properties.
Special Colours desired?
Of Course, you can also customize this glider with the help of our configurator and order it in special colors!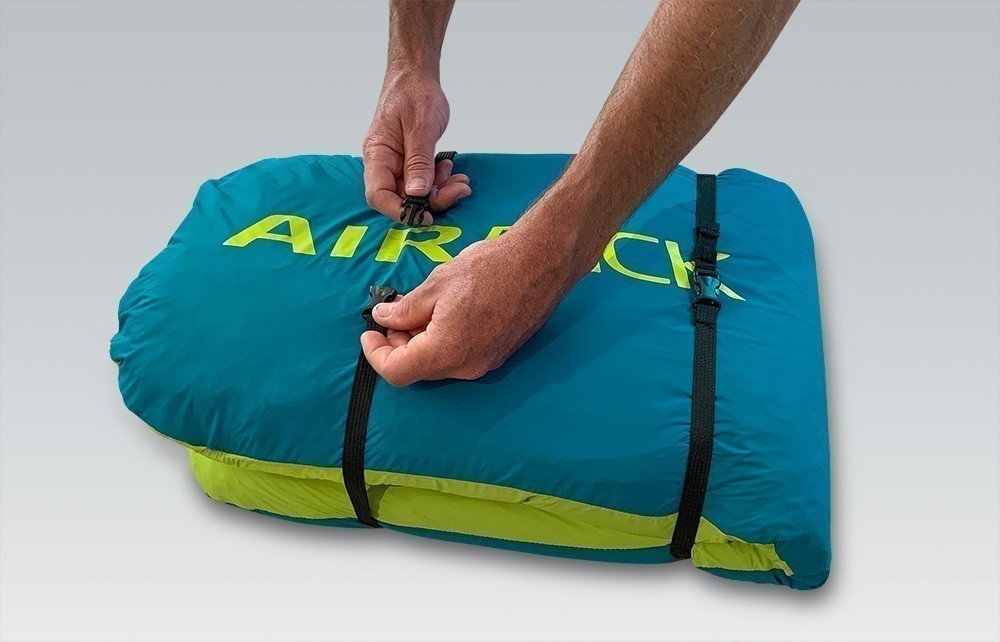 your SuSi 3 – #lightgearjunkie Package
Delivery
Glider
Map with Manual (USB stick)
Repair Materials and AirDesign Stickers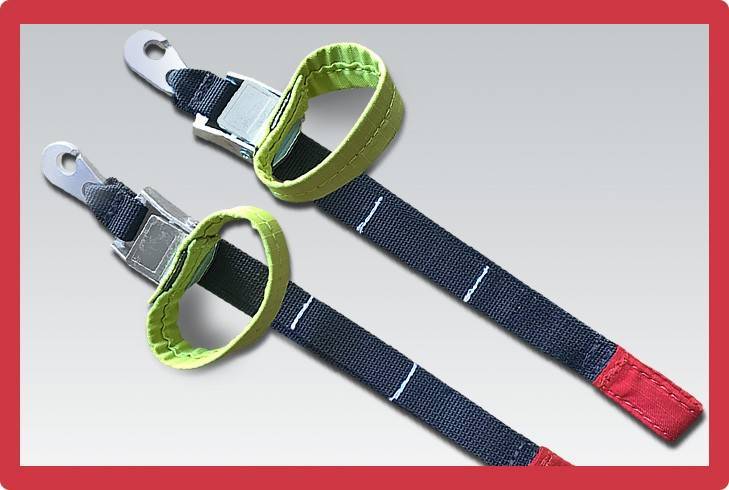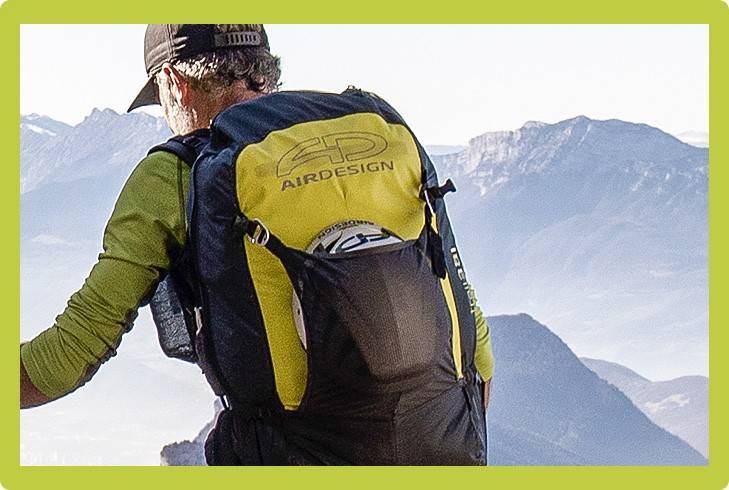 Hike&Fly "trail" Rucksack