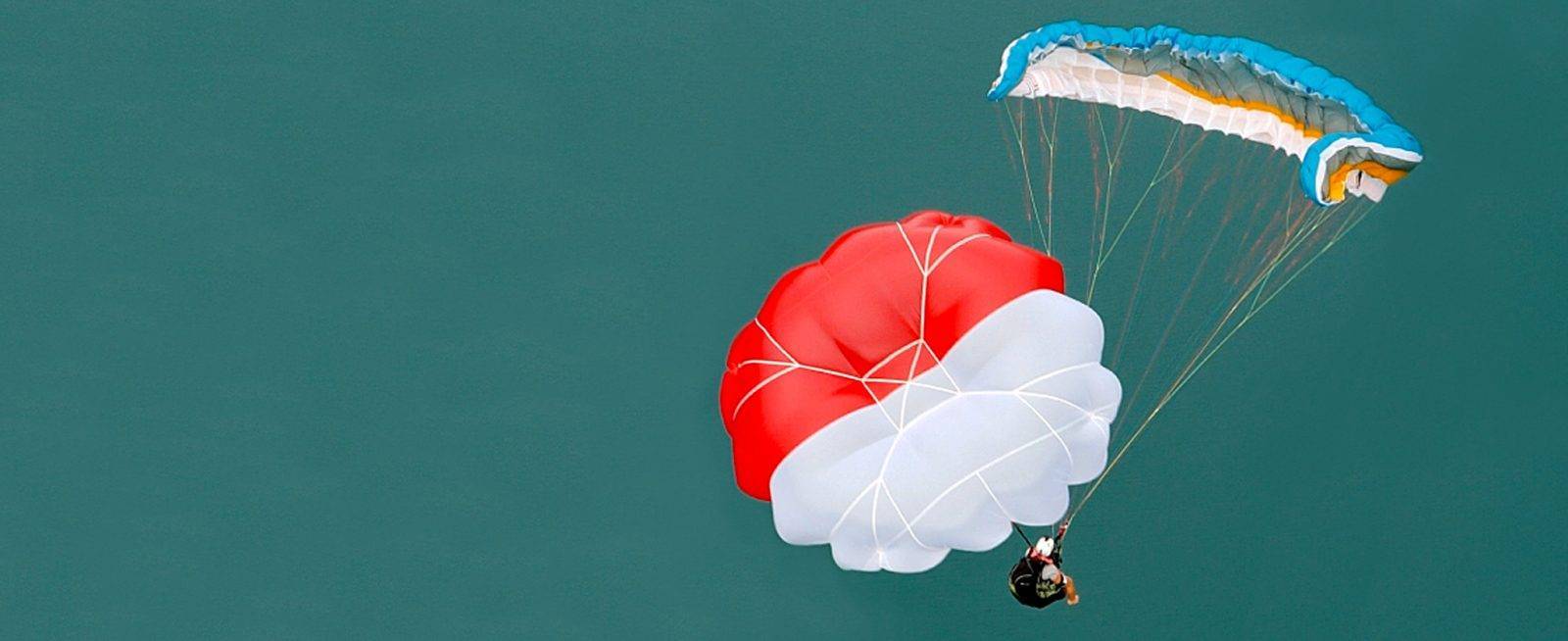 Stable, light, durable and easy to fold. The AirDesign Donut is a hybrid shaped rescue that combines the advantages of both square and round rescues. Packing is as easy as a traditional round rescue, opening and pendulum stability are at their best, sink rate is among the lowest in the market.
DONUT – Best of two worlds!
What does hybrid shape mean and imply?
We developed a new shape that benefits from the advantages of the square shape (pendulum stability, faster opening times, and better sink rates) but without compromising on easiness to fold.
With the Donut shape, we get all of the points above, but also a better ratio between flat and projected surface, which helps a lot on the weight and packing volume, without compromising on sink rate.
This new shape provides fast and smooth openings. It also allows a better ratio between flat and projected surface, resulting in low sink values even with noticeably smaller flat surfaces.
The side vents help make the rescue highly pendulum stable.
Did you know?
We have chosen to certify our rescue systems utilizing the EN certification over the LTF one.
This is because the maximum allowable sink rate for the EN system is 5.5m/s while LTF allows 6.7m/s.
Never happy with achieving a minimum standard, we decided to go the extra mile and achieved low sink rates (4.9m/s at max load for the 120).
With its 810g the Donut 90SL (SuperLight) is one of the lightest EN certified rescue on the market (for 90kg max). This comes from the small surface thanks to the low flat/projected surface ratio, and use of light but durable fabric.
Its bigger brothers, the 100 and 120 are light and not SL, but are still in the lightest ones you can find on the market. Making them perfect for your next hike and fly adventures!
And with its 2.3kg, the Donut 220 is definitely amongst the lightest and most compact tandem rescues out there.
| Size | 90SL | 100 | 120 | 220 |
| --- | --- | --- | --- | --- |
| Area | Flat (m²) | 22,2 | 25,55 | 32,58 | 64 |
| Weight (kg) | 0,81 | 1,3 | 1,6 | 2,3 |
| Certifictaion | EN/LTF | EN/LTF | EN/LTF | EN/LTF |
| Max. Load (kg) | 90 | 100 | 120 | 220 |
| Sinkrate Maxload (m/s) | 5,49 | 5,17 | 4,90 | 5,35 |
| Volume (liters) | 3,16 | 3,51 | 3,78 | 8,55 |
| Packing Height (cm) | 9 | 9 | 9 | 12 |
| Width (cm) | 18,5 | 19,5 | 20,5 | 28,5 |
| Length (cm) | 19 | 20 | 20,5 | 25 |