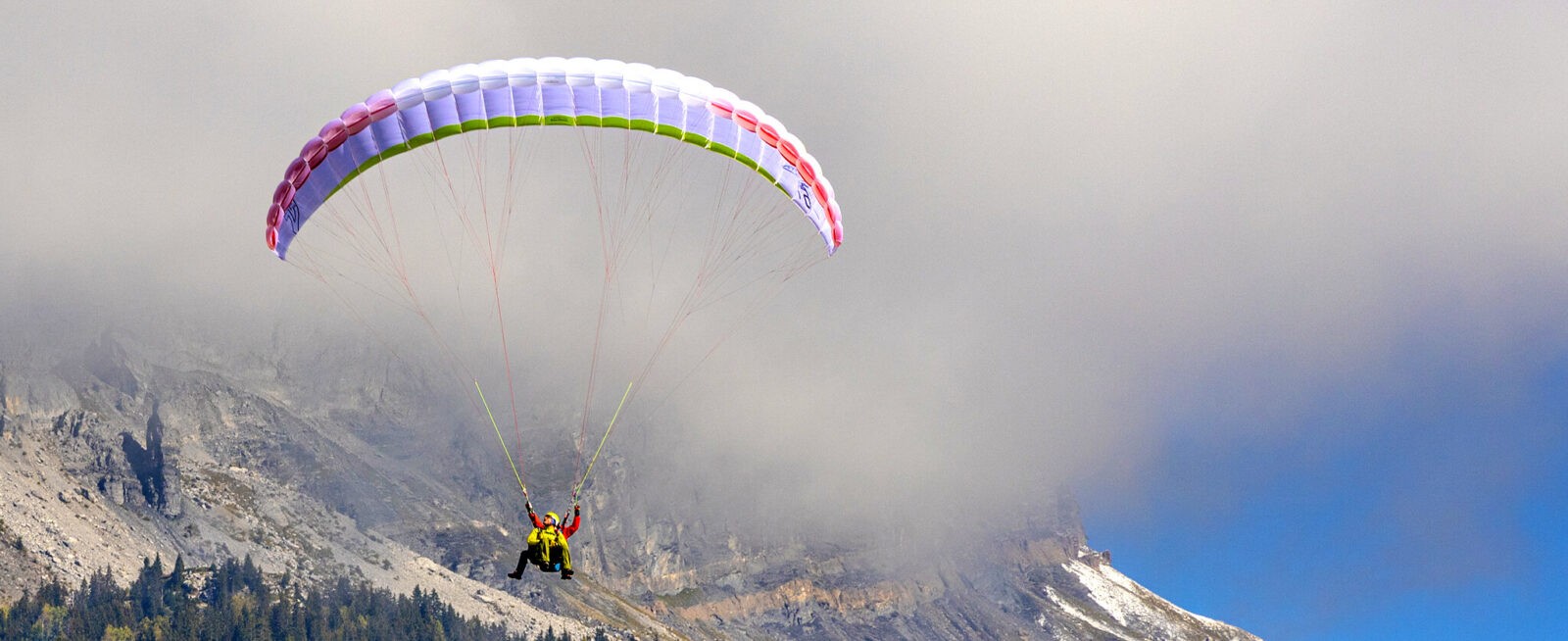 The council members were outraged. Gordon was keeping silent, waiting for his companion to speak. Alf cleared his throat and said: "We haven't seen it, but we heard the two mountaineers talking about it".
– "And what did you learn?" The general Stachys curtly interrupted him.
– "At a time of the day where most of the mountaineers are still going down, these dudes were enjoying a beer on a terrace, chatting and laughing about the incredible day they just had".
They mentioned that time when they had to improvise a bivouac on the top of the Grépon, using the ropes to cover their bodies to face a long and cold night and were wondering "what if we had had a fast solution to get down?". Then, one of them exclaimed: "I'd like to propose a toast to this new chapter! Today we reached the Aiguille Verte and took off from there. How come? Because I had the UFO-Bi in my rucksack! Light and fast! This is the key for our safety!" The other was merry "Dude, I really had doubts about it until I saw you taking the light and compact package out of your backpack, then I knew you were right. The take-off with the UFO-Bi has been a formality and still, my heart was pounding so hard in my chest!".
– "No descent! Just enjoying the flight in tandem!?" Stachys almost choked.
– "Just enjoying the view, yes, they said they were yelling like two kids", Alf calmly pursued. "While soaring the huge granite faces, the pilot felt thankful to have such a nice wing to play with. Then, they headed to the valley… And after a nice flare, they were back on earth".
The old alien looked clearly worried. This observation mission had gone further than anything he could have had imagined. Not only they were not alone in the universe, but the human beings now mastered the UFO technology for two people. Let's hope it is limited to the mountaineers. The others must not know.
Intermediate

100%

100%

Advanced

100%

100%

Expert

100%

100%

Cross Country

20%

20%

Hike and Fly

100%

100%

Expedition

100%

100%

Hike & Fly Competition

60%

60%

Run & Fly Competition

100%

100%
How to describe the UFO-Bi…
…in one word?
Light!
…in one image?
Folded in its Airpack 50-50 XS, you just can't imagine this is a tandem wing.
.… in one dream?
Accessing a virgin slope, skis on… in a galaxy far, far away…
For every AD wing, these Humans use a claim and a hashtag. For the UFO-Bi, They chose Beam us up and #notalone. Hell yes, they are not alone in the universe! And why reserve the pleasant handling and the lightness of the UFO to a pilot on his/her own? With the UFO-Bi, you are not alone anymore and can share your ride with the simplest and easiest tool for hike-and-fly in duet!
Did you know?
The UFO-Bi is SUPERLIGHT on every part designed but durable as well-known for the UFO. Every detail matters. For instance, the use of rib-arches with a border-webbing support takes the load from the ribs and line attachments. As well it guarantees a long-lasting glider.
– As for the new UFO, the lines are unsheathed Aramid but color-coded! Solidity has never been so easy to untangle.
– Releasing the trimmers allows a good speed increase to further improve its amazing ability to flare and land smoothly.
– The use of Nitinol rods not only saves weight and increases robustness, it also allows a super compact folding… To always slip it into your rucksack.
– Leading edge and trailing edge are with mylar-border band. This ensures a structural consistency for not changing the wing's flying behaviors.
– On the leading edge, ground attachment loops can be used to prevent the paraglider from slipping on a steep and/or slippery slope (snow).
Did you know?
The French AirDesign team had the first contact with the UFO-Bi during the Flying Light Festival in Saint-Gervais (Mont-Blanc area) and was very happy with its behavior in every phase of flying and ability to thermal up in the light autumnal climbs. Pilots there really were positively surprised and remained amazed to have such a nice tandem wing weighing only 2.8 kg!!
Technical Specifications & Colors
This tandem, EN-B certified, is meant to take-off from everywhere and to take you anywhere! Easy to launch, gentle handling, and a smooth landing: a must-have for your mountaineering adventures in duet!
| UFO-Bi | |
| --- | --- |
| Area | Flat (m2) | 30,24 |
| Area | Projected (m2) | 25,62 |
| Span | Flat (m) | 12,26 |
| Span | Projected (m) | 9,68 |
| Aspect ratio | Flat | 4,97 |
| Aspect ratio | Projected | 3,66 |
| Cells | 27 |
| Total line length (m) | 465 |
| Weight (kg) | 2,83 |
| Certified takeoff weight (kg) | 130-190 |
| EN/LTF Certification | EN-B |
Take Off Weight is considered as the flight-mass (including Pilot, Glider, Harness, Reserve, Gear…)
Lines
• Porcher Skytex 27 classic II – Double coated
Leinen
• Top lines: Edelrid 8001/U-070, 090
• Middle lines: Edelrid 8001/U-130, 190
• Main lines: Edelrid 8001/U-190, 230, 280
Riser: EDELRID Taurus – ~3,7mm Dyneema Rope
Maillons: 4,3mm JOO-TECH/Korea
SUPERLIGHT
NITINOL RODS
3D-CUT
UNSHEATHED LINES (COLORED)
SUPERLIGHT DYNEEMA RISERS
SUPERLIGHT TRIMMERS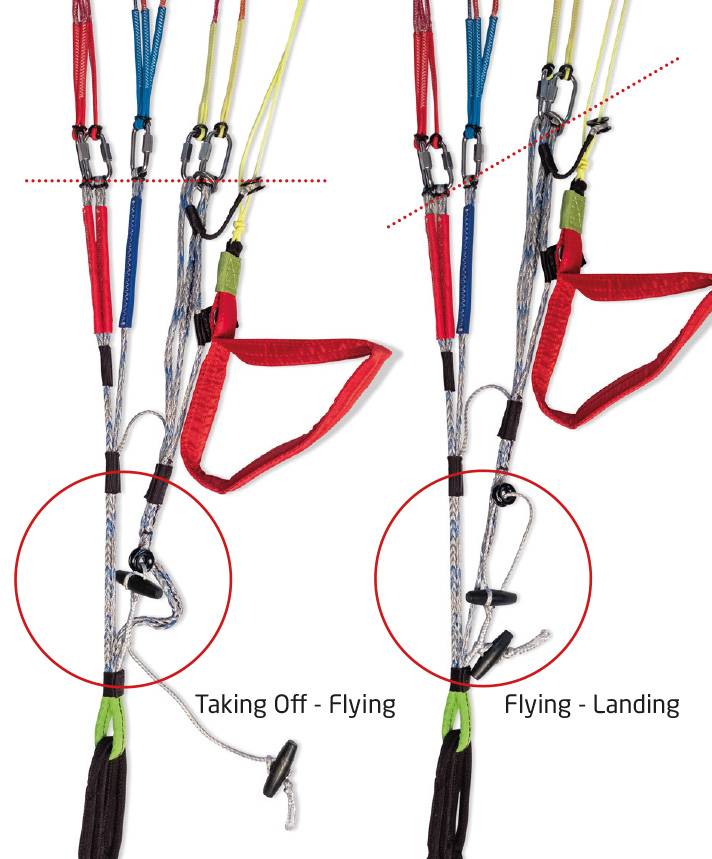 Special Colours desired?
Of Course, you can also customize this glider with the help of our configurator and order it in special colors!
The color combinations made on this simulator do not take into account the effects of transparency.
They are only indicative and allow you to give the information of choice of color to your dealer.
To better visualize the effects of transparency, do not hesitate to visit the various product pages of the site.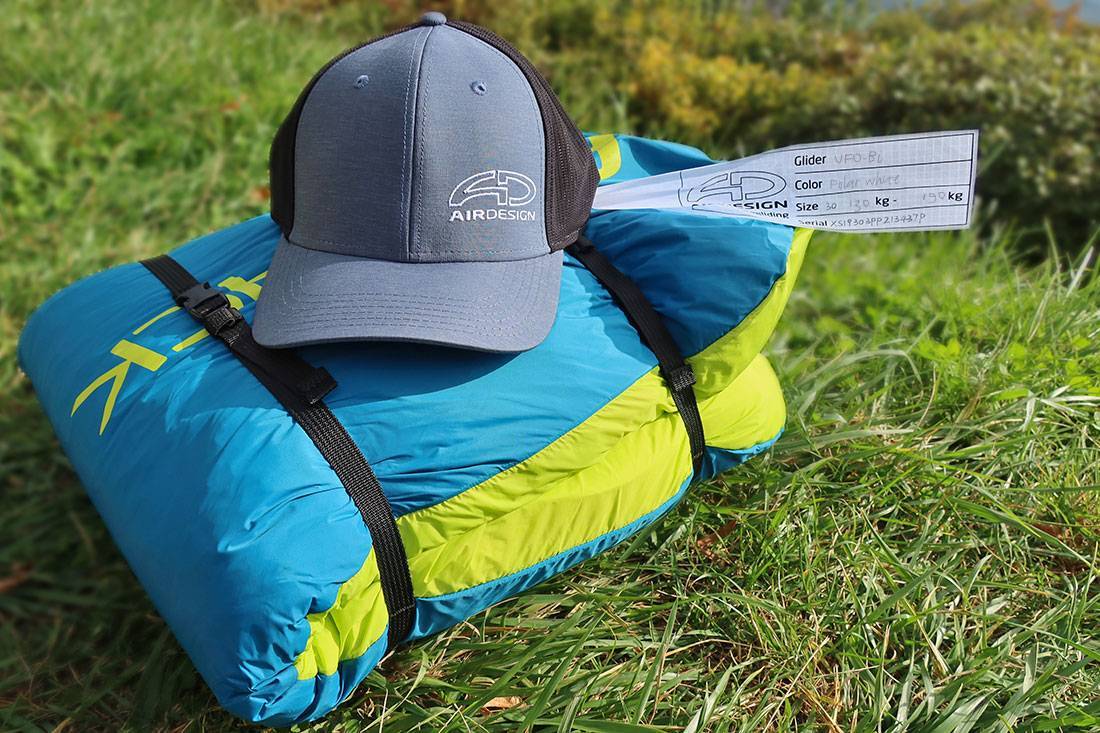 your UFO-Bi – #notalone Package
Delivery
Glider
Superlight tandem spreaders
Airpack 50/50 XS
Goodies
Repairmaterials and AirDesign stickers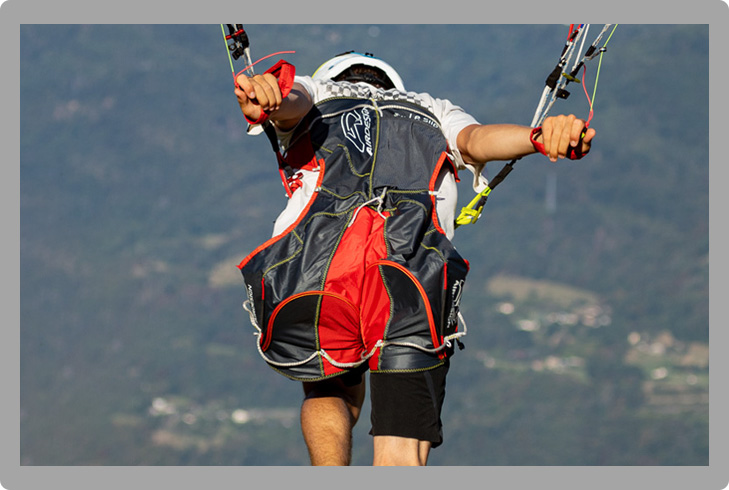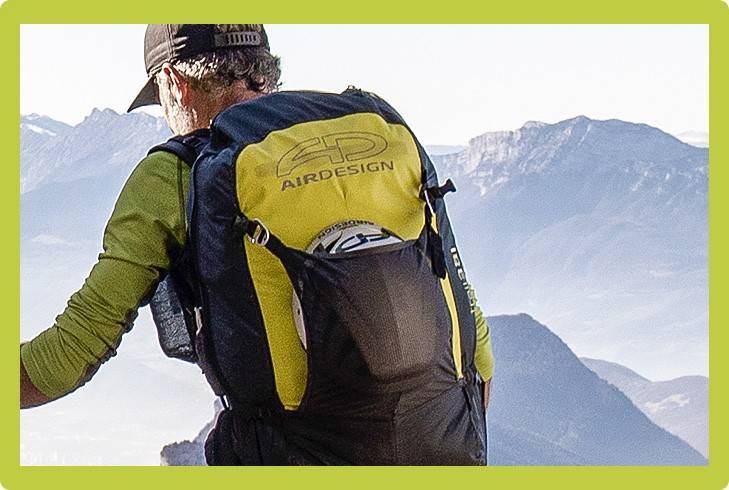 Hike&Fly "trail" Rucksack