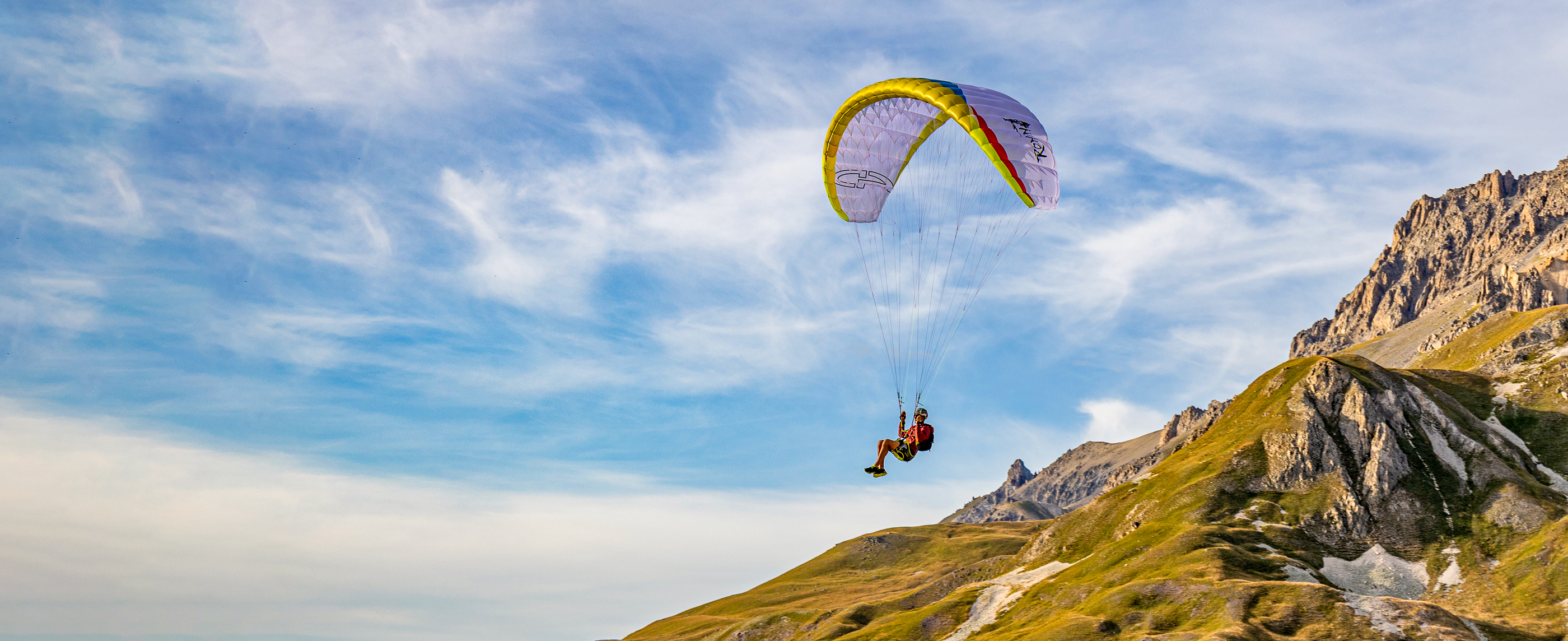 In feudal Japan (1185-1868), a rōnin (Japanese: 浪人, 'drifter' or 'wanderer', lit. 'a person of the waves') was a samurai who had no lord or master.
Light and fast! Starting from 1 kg and 5L packed, the RONIN is our ultimate single surface to run and fly. And run. And fly. Nothing can stop you.
No gods, no masters
Beginner

0%

0%

Intermediate

60%

60%

Advanced

100%

100%

Expert

100%

100%

Cross Country

20%

20%

Hike & Fly

100%

100%

Expedition

100%

100%

Hike & Fly Competition

20%

20%

Run & Fly Competition

100%

100%
The RONIN was a wandering samurai who had no lord or master. Our glider follows the same path. It is intended for pilots looking for a single surface but with a more radical flying style. Combining the lowest weight and packing volume with the highest durability, the RONIN is made for running and flying – boundless, fast, with no order or restrictions: free in what you do! Break your own rules!
Did you know?
Compared to The New UFO, the RONIN offers reduced weight & packing by decreasing lines, ribs and nose section but also by using the double-coated Dominico DOKDO 10D fabric. The glider is smaller and it flies at higher load, making it faster and more dynamic. While the RONIN has no speed system thanks to its built-in high speed, the glide and the flair have been improved in comparison to the UFO. The RONIN is ideal for ambitious pilots, trail running, practicing extreme mountaineering and searching for the most remote challenges in the world.
– Double coated Dominico DOKDO 10D, doubled seams and etching tape on edges: robustness is the key.
– The lines are unsheathed Aramid 8001 Magix Pro Dry, hydrophobic and color-coded. Solidity has never been so easy to untangle.
– The use of Nitinol rods not only saves weight and increases robustness, it also allows a super compact folding… To always slip it into your rucksack.
– Leading edge and trailing edge are with mylar-border bands for structural strength. As well, this ensures the wing's flying behavior.
– On the leading edge, ground attachment loops can be used to prevent the paraglider from slipping on a steep and/or slippery slope (snow).
– Inspired by aerodynamics design in cycling, the RONIN introduced a new profile named Kammtail.
Did you know?
Since the certification of the first UFO in 2015, Stephan has developed a certain expertise to make single surface gliders as light as possible without compromising their solidity nor the durability. Making the lightest single surface is one thing but we want our pilots to feel confident with their gear, in terms of behavior, performance and robustness. Especially in a wild environment and sketchy take-offs. The RONIN will be your best companion in all your adventures, from the simple trail-and-fly to the epic first ascent.
Technical Specifications & Colors
Light and fast! The RONIN is a versatile single surface glider depending on its weight loading. Choose the size that fits best to your favorite flying style, abilities or demands: from intermediate pilot to speed-flyer. Grab your RONIN and go runnin!
Size
12
14
16
18
Area | Flat (m2)
12,18
13,80
16,06
18,53
Area | Projected (m2)
10,32
11,70
13,61
15,71
Span | Flat (m)
7,78
8,28
8,94
9,60
Span | Projected (m)
6,14
6,54
7,06
7,58
Aspect ratio | Flat
4,97
4,97
4,97
4,97
Aspect ratio | Projected
3,66
3,66
3,66
3,66
Cells
27
27
27
27
Weight (kg)
1,03
1,16
1,3
1,45
Takeoff weight (kg) EN 926-2
EN/LTF Certification
55 - 68
C
60 - 75
C
65 - 82
B
70 - 90
B
Extended takeoff weight (kg)
EN 926-1
68 - 95
75 - 100
82 - 110
90 - 120
Take Off Weight is considered as the flight-mass (including Pilot, Glider, Harness, Reserve, Gear…)
EN 926-2 = flight test
EN 926-1 = load and shock test
The RONIN has a certified standard weight range (EN 926-2, e.g. EN-B) and an extended weight range which is covered by the EN 926-1 (load-test). In the first one, the glider flies in intermediate style and is already pretty fast. In the latter, the glider is more loaded and therefore the speed is much higher, it thus requires good skills for take-off and landing.
Sail
• Dominico DOKDO-10DSF double coated 25 g/m2
Lines
• Top lines: Edelrid 8001/U
• Middle Lines: Edelrid 8001/U
• Main Lines: Edelrid 8001/U
Risers: EDELRID Taurus – ~3,7mm Dyneema Rope
Maillons: AirDesign Soft-Links
SUPERLIGHT
NITINOL RODS
3D-CUT
RAZOR EDGE
KAMMTAIL PROFILE
HALF CHORD CELLS
SOFT LINKS
UNSHEATHED LINES (COLORED)
SUPERLIGHT DYNEEMA RISERS
B/C CONTROL
AirDesign has a small one
We work hard on every model to be able to maintain the behavior of the glider in terms of flying, and also outside the flight envelope, for all the certified weights, starting by the smallest ones. The certification of most of our wings starts at 50 kg because we chose to announce only what we have actually tested. And above all, because we make sure that the glider is efficient, secure and fun at this load and this is as important as the certification itself! Our aim is to have light pilots find the same pleasure to fly as heavier ones.More info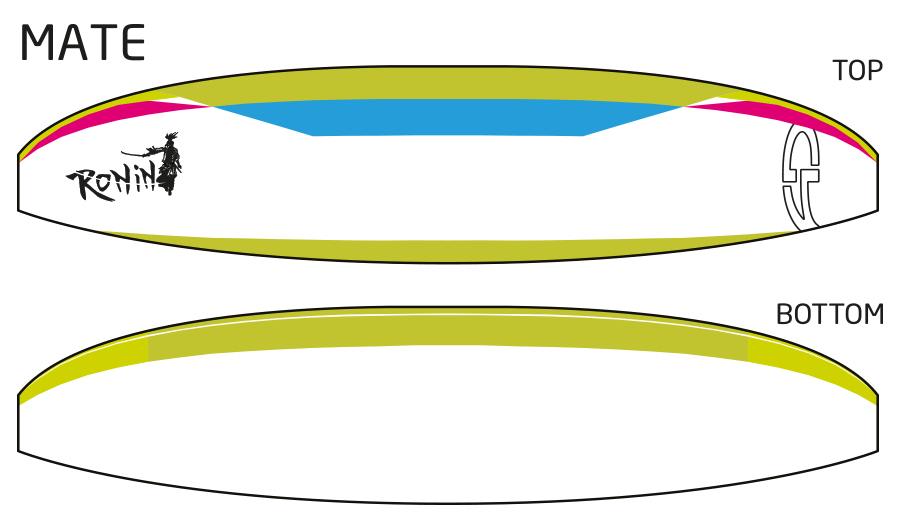 Glider
Weight range
(kg)
50
kg
55
kg
60
kg
65
kg
70
kg
75
kg
80
kg
85
kg
90
kg
95
kg
100
kg
105
kg
110
kg
115
kg
120
kg
Ronin 12
55 - 68 - 95
35


km/h

37


km/h

46


km/h

Ronin 14
60 - 75 - 100
35


km/h

39


km/h

44


km/h

46


km/h

Ronin 16
65 - 82 - 110
35


km/h

37


km/h

44


km/h

46


km/h

Ronin 18
70 - 90 - 120
35


km/h

39


km/h

44


km/h

46


km/h

Standard Loading – Intermediate Style

Upper Standard Loading – already speedy

Extended Loading – Maximum speed
Note:
In the green range, the glider is fully EN certified (B or C).
In the red range, the glider is EN 926-1 certified (shock and load test).
Special Colours desired?
Of Course, you can also customize this glider with the help of our configurator and order it in special colors!
The color combinations made on this simulator do not take into account the effects of transparency.
They are only indicative and allow you to give the information of choice of color to your dealer.
To better visualize the effects of transparency, do not hesitate to visit the various product pages of the site.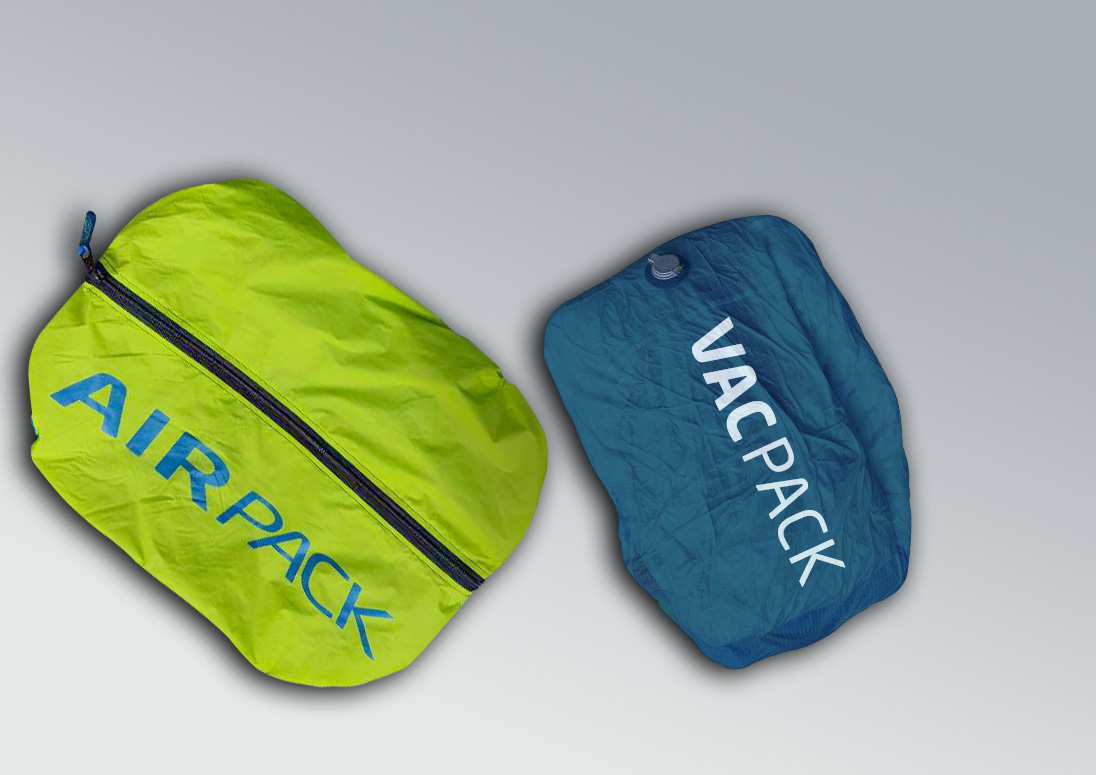 your Ronin – #bladerunnin package
Delivery
Glider
UFO Airpack
VacPack
Goodies
Repair Materials and AirDesign Stickers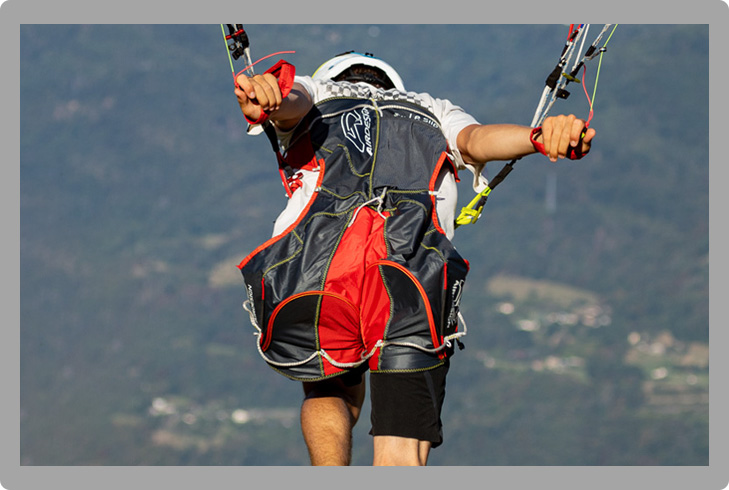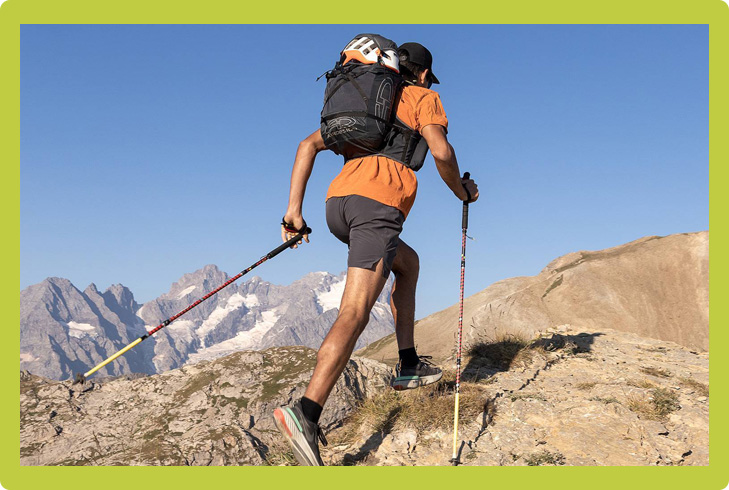 Hike & Fly Trail Rucksack 24L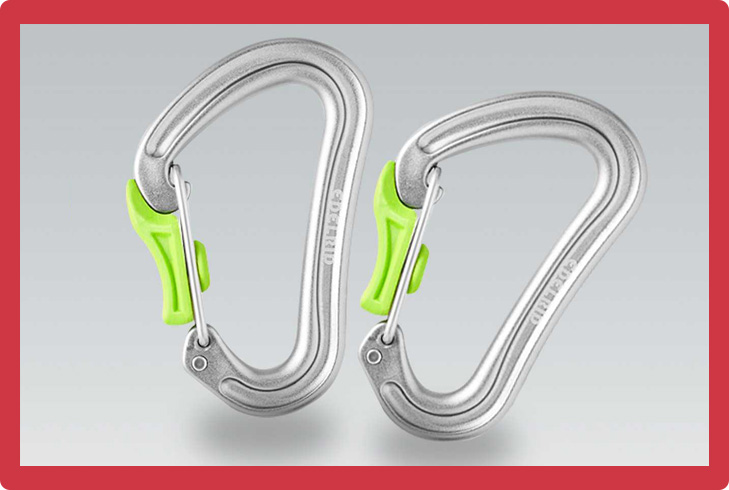 Edelrid Ease Superlight Karabiner