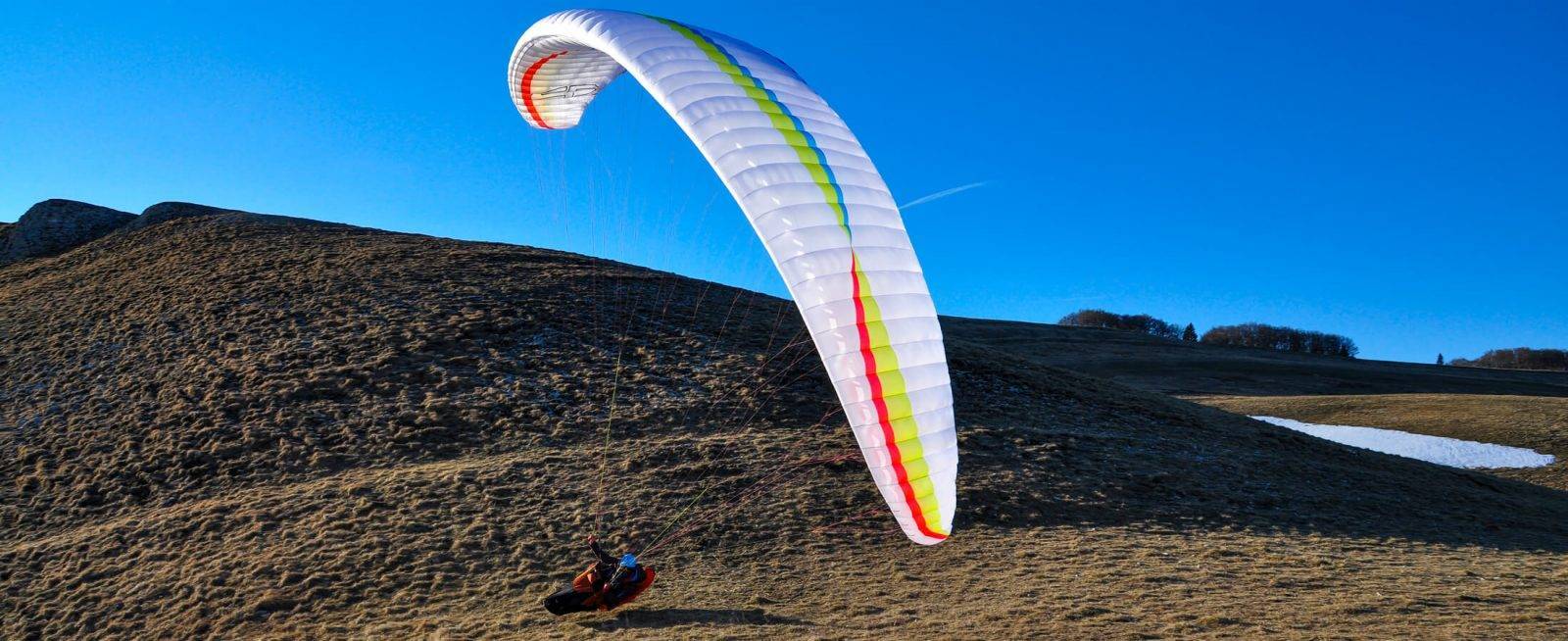 "Nobody likes to walk with a heavy rucksack" Martin said "Absolutely nobody". We were preparing our next expedition and I couldn't agree more while packing my wonderful Soar. So excited about this new biv-flying adventure. It's all about your own rules, making your own decisions. Where. When. How. Would you go for a full autonomy? Would you use only your feet and wing? Oh and obviously you can change your mind. That's what I thought when I got on a train, to cross a tricky valley that barred our way.
"Nobody likes to walk with a heavy rucksack!"
Soar – Rising Superlight
The train was crowded with people and poultry and we had to split our stuff. I kept my wing with me and while the chickens were staring at this funny hand luggage, I thought about the choice of the Soar. Martin was a mentor for me. He said you need a wing you feel comfortable with. It has to be light and compact. It must be informative for the early morning thermals and performant to push to get through a mountain pass. Well he had just painted the portrait of the Soar.
When you find yourself doing a bivouac adventure with such a toy, you get the privilege of starting the day early, in the first rays of sun while the valley floor is still in the shade; the satisfaction of finding a nice place to sleep after an epic flight. "That should be illegal" my friend exclaimed "…That's what I call a hold-up" I replied.
Soar. Break your own rules
Beginner

25%

25%

Advanced pilots

100%

100%

Expert

75%

75%

Competitions

60%

60%

Hike&Fly

100%

100%

XC

100%

100%
How to describe the Soar …
… in one word?
Agile!
… in one image?
A bivouac at sunset with lots of opportunities for the next day!
… in one dream?
An insane biv-flying adventure from Patagonia to Alaska
"For every AD wing, we use a claim and a hashtag. For the Soar,  we chose Rising Superlight and the #cloudhopper. The Soar is the light version from the Rise4. The latter is already not heavy at all, but we thought let's see how light we can make it…! Well, we managed to get an even lighter glider that still offers excellent longevity".
Did you know...?
The Rise4 was released in January, 2020 and weighs 4.25 kg (S size). The Soar is 800 grams lighter than the Rise4: Soar S size is only 3.47kg! Not to mention the XXS at 2.83kg.
We used our experience in building light gliders -such as the HERO- to create the Soar, the light version of the Rise4. Cloth on top and bottom and ribs are all made in double coated skytex27 (classic II).
The lines are unsheathed (Aramid, Edelrid 8000U), risers are made with a 3,7mm dyneema rope from Edelrid named Taurus.
Nitinol rods have been used in the leading edge for extra weight saving, best robustness allowing super compact folding, and optimized sail tension.
And This Superlight mix of material offers maximum lightness, durability and function.
Technical Specifications & Colours
Did you know...?
As already known from our other gliders the Soar has got the WINGLET design and the VORTEX hole technology – for improving further performance. Vortex holes also allow automatic dust clean-up of the glider. The Soar is the first AirDesign glider using Nitinol Rods allowing to save even more weight, fold even more compact, and improve the sail tension.
| Size | XXS | XS | S | M | L |
| --- | --- | --- | --- | --- | --- |
| Area flat (m2) | 18,77 | 21,34 | 23,83 | 25,91 | 28,08 |
| Area projected (m2) | 15,97 | 18,16 | 20,27 | 22,04 | 23,89 |
| Span flat (m) | 10,54 | 11,24 | 11,88 | 12,39 | 12,89 |
| Span projected (m) | 8,47 | 9,03 | 9,54 | 9,95 | 10,35 |
| Aspect ratio flat | 5,92 | 5,92 | 5,92 | 5,92 | 5,92 |
| Aspect ration projected | 4,49 | 4,49 | 4,49 | 4,49 | 4,49 |
| Cells | 53 | 53 | 53 | 53 | 53 |
| Weight (kg) | 2,83 | 3,11 | 3,47 | 3,69 | 3,95 |
| V-TRIM/V-MAX (km/h) | 38/55 | 38/55 | 38/55 | 38/55 | 38/55 |
| LTF/EN Category | B | B | B | B | B |
| Start weight (kg) | 50-65-72 | 60-78 | 72-92 | 85-105 | 100-125 |
* 50-65kg is the standard payload, 65-72kg is an increased payload (both areas EN-B)
Segeltuch/Sail/Voile:
• Obersegel/Top Sail/Extrados: Porcher Skytex 27 classic II
• Untersegel/Bottom Sail/Intrados: Porcher Skytex 27 classic II
• Rippen/Ribs/Cloisons: Porcher Skytex 27 hard
Leinen/Lines/Suspentes:
• Gallerieleinen/Top lines/Suspentes hautes: Edelrid 8000/U-070, 090
• Gabelleinen/Middle lines/Suspentes moyennes: Edelrid 8000/U-130, 190
• Stammleinen/Main lines/Suspentes basses: Edelrid 8000/U-190, 230, 280
Tragegurt/Riser/Elévateurs:
EDELRID Taurus – ~3,7mm Dyneema Rope
Schraubschäkel/Maillons:
4,3mm JOO-TECH/Korea
SUPERLIGHT
WINGLETS
VORTEX HOLES
S-NOSE
NITINOL RODS
FLEX-RODS
3D-CUT
MINI RIBS
RAZOR EDGE
UNSHEATHED LINES
SUPERLIGHT DYNEEMA RISERS
BS PULLEY CONNECTOR
B/C CONTROL

Special Colours desired?
Of Course, you can also customize this glider with the help of our configurator and order it in special colors!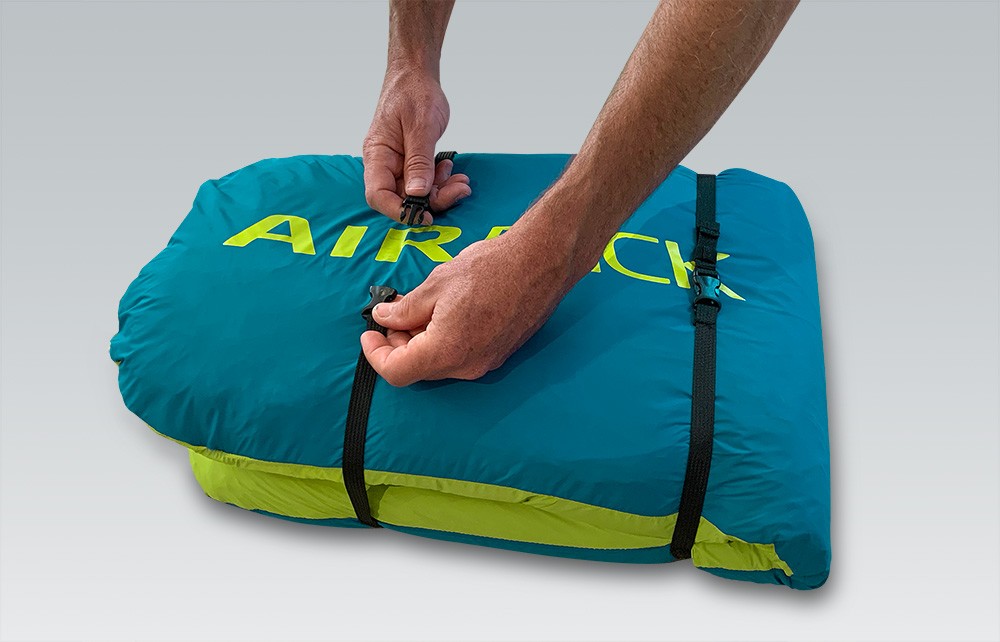 your Soar – #cloudhopper package
Delivery
Kit with Manual (USB stick)

Repair Materials and AirDesign Stickers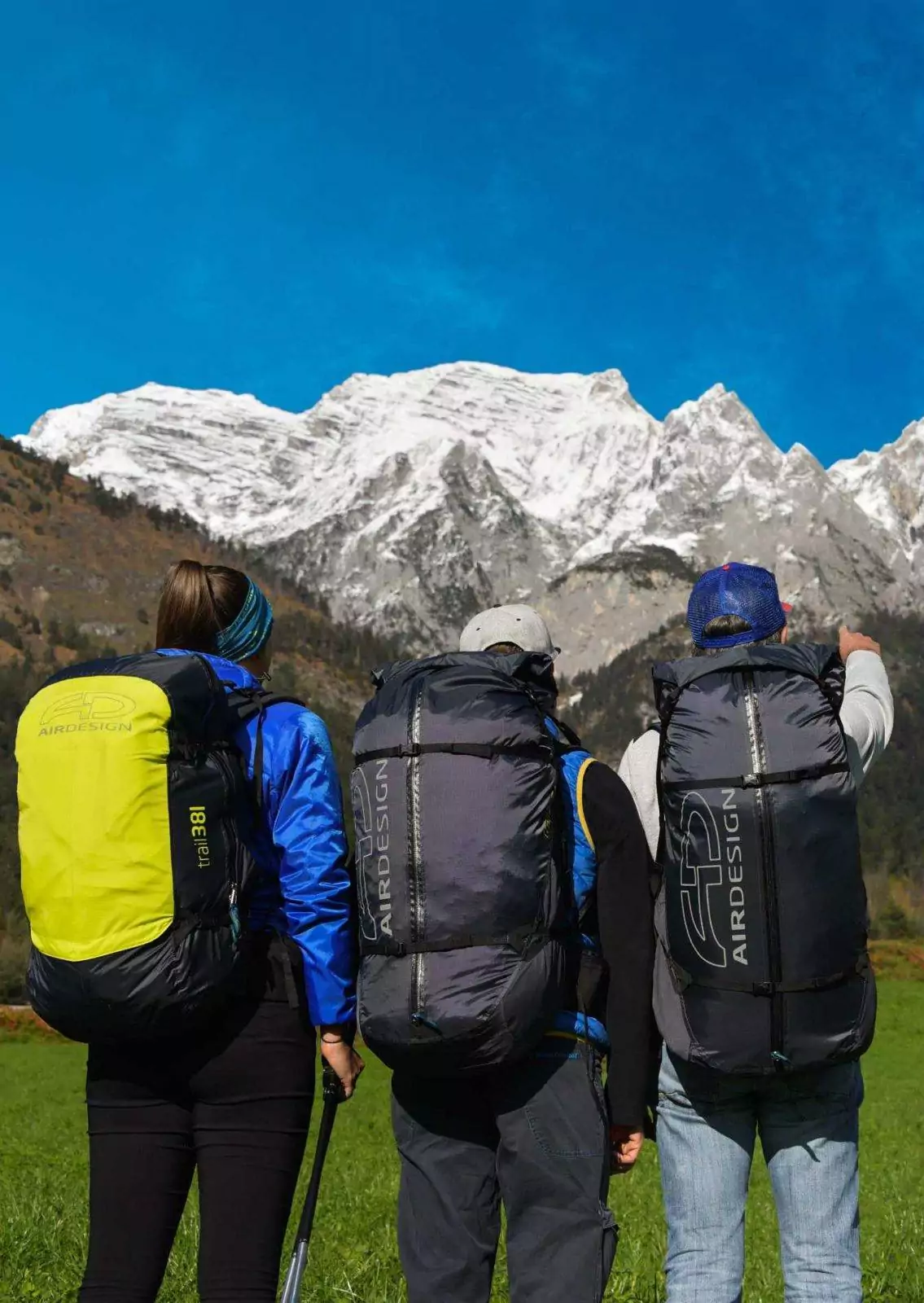 AirDesign – Hike&Fly "trail" Rucksack
€120,00 – €192,00 inkl. MwSt.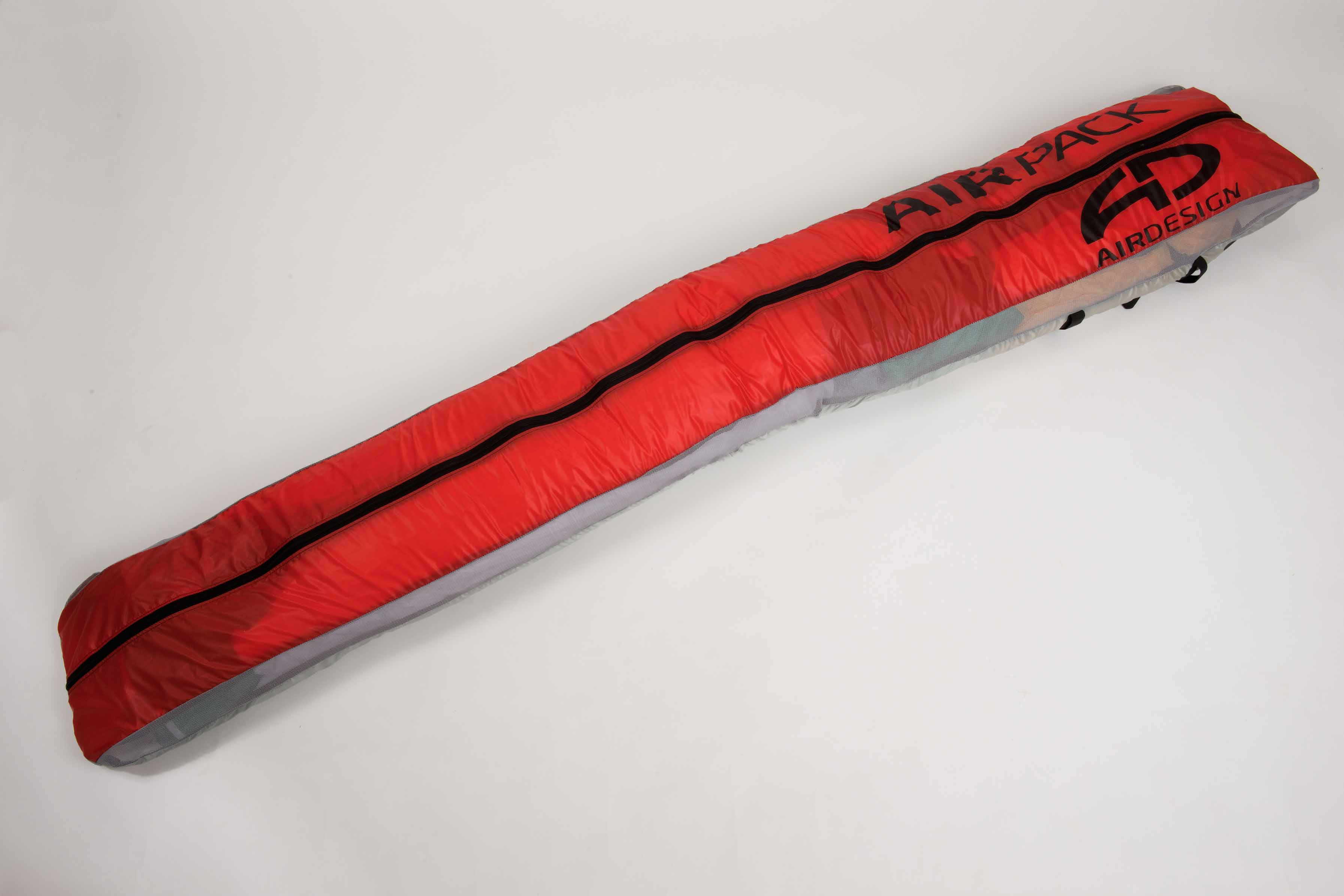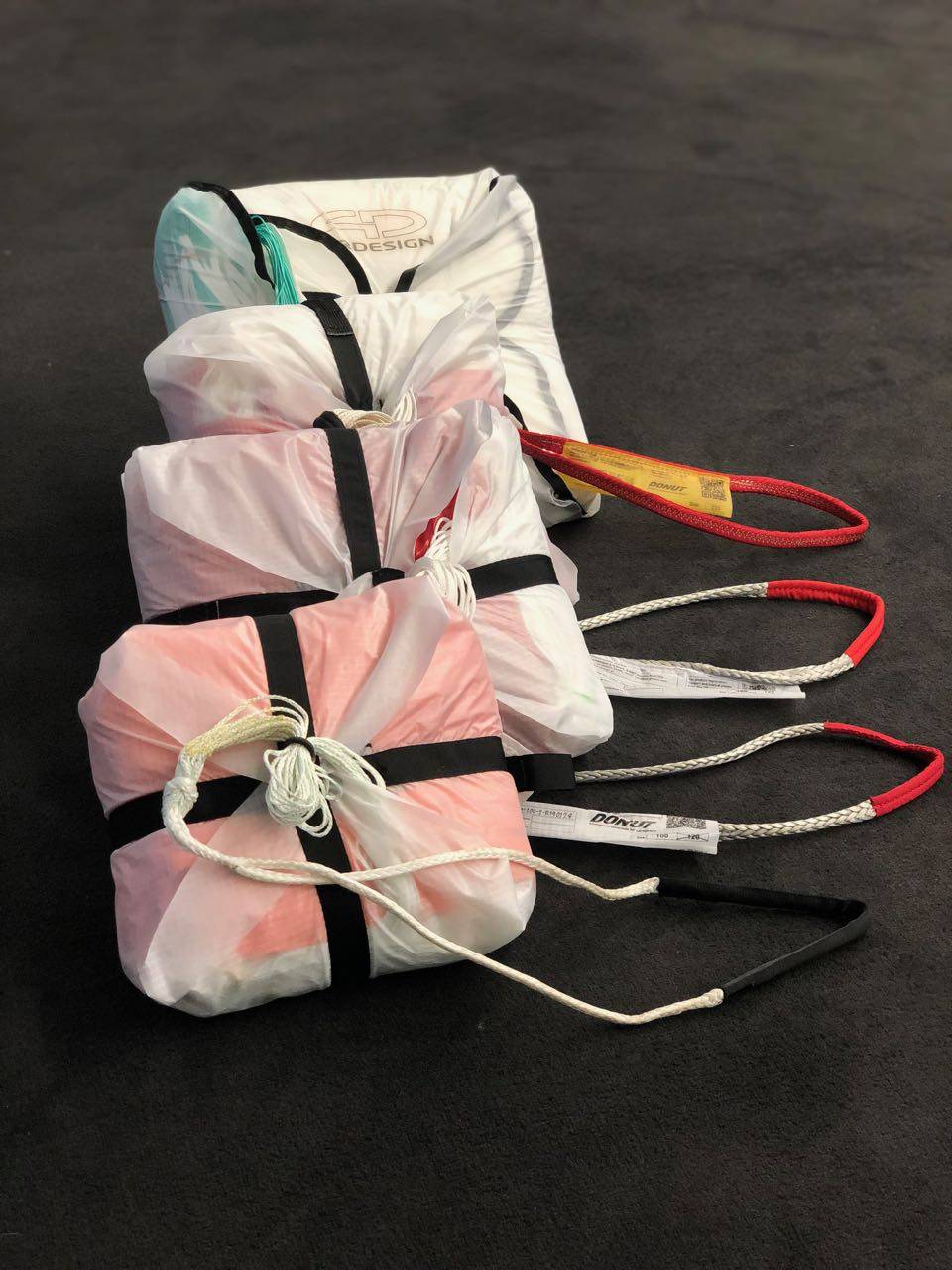 The AirDesign DONUT rescue system combines the positive characteristics from both square and annular (round) rescues. The DONUT is cut like a square canopy, but in the air it presents itself more like traditional annular.
Packing is still as simple as with conventional systems.